Self Contained Oil Evacuation Tool (SCET)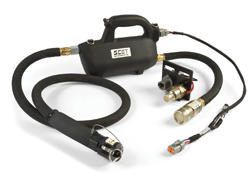 RPM Industries' self-contained oil evacuation tool is a remotely powered handheld transfer pump for lubricating oils on smaller engines. Current models are available for 12VDC, 24VDC.
The SCET can be used with a simple pick tube attachment (Pictured below) to help make oil changes and evacuations
For more information about RPM Industries' oil evacuation tool, call 800.255.2250 or contact us today!