Oil Transfer Pumps and Accessories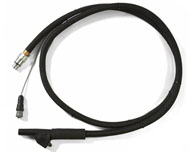 QuickEvac Service Tool
Connect the service tool to the QuickEvac bracket and direct the nozzle into your waste oil container. Press the button to pump the oil from the machine.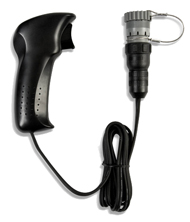 Remote Activation Switch
The remote activation switch connects to the electrical connector on the QuickEvac bracket to manually pump the oil from the machine. Used with the lube truck conversion kit, refill kit or when manual activation of the pump is required.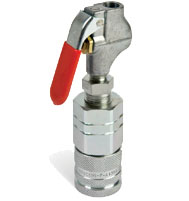 Oil Filter Purge Tool
Connecting a compressed air hose to this tool allows the service technician to purge the oil from the engine oil filter preventing spillage of hot oil over the sides of the filter. The technician will have no hot oil on his hands and no mess to clean from spilled oil when replacing the oil filter.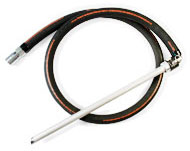 Barrel Refill Kit
Includes a pickup tube and hose assembly for the refill of clean oil to refill the engine during an oil change.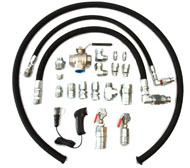 Lube Truck Conversion Kit
This kit converts your lube truck to allow the QuickEvacT system to pump the oil directly into the waste tank on the truck. There is no need to drain oil into pans or buckets eliminating the chance of spilling oil onto the ground.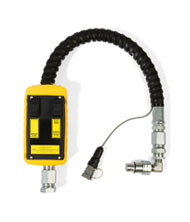 Auto-Off Evac Tool
Connect this tool to the QuickEvac bracket, place the selector in the auto position and press the button. The tool senses oil flow and will stop the pump when the oil pan/reservoir is empty. Used with large sump capacities such as hydraulic tanks so the technician doesn't have to hold the button to pump out the oil. Also has a manual mode.
For more information about oil evacuation accessories, call 800.255.2250 or contact us today!