QuickFit™ Oil Evacuation System with PERT Process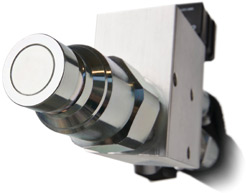 QuickFit is the simple oil evacuation solution for all machine service performed at a central location. The QuickFit™ system is a member of RPM Industries' family of engineered solutions that empowers performance through the use of the patented PERT Process.
Purge oil filters prior to removal eliminating oil spills and burn risks.
Evacuate oil from sump directly to waste containment. No pans. No spills.
Refill through new oil filters for improved contamination control and pre-lubricating the engine before starting.
Timestamp the service event to efficiently manage the scheduling of future services.
With just one fitting per compartment, the QuickFit system allows you to complete most machine services in less than 20 minutes without getting under the machine providing
No leak solution
Live dipstick read from ground
Contamination and spill control
Ground accessibility
Automatic engine pre-lubrication
QuickFit™ Engine Fluid Management
Maintenance becomes simple and safe. Productivity and machine availability goes up. And the risk of spills and contamination is virtually eliminated. This system pays for itself in less than a year.
Safer: Machine service from a single ground accessible point means virtually no need to climb under or on top of machines which is always one of the top causes of reportable accidents. Furthermore, the purge operation greatly reduces the amount of hot oil left in the filters reducing burns and dangerous conditions.
Cleaner: Purges filters to the sump and then Evacuates the sump directly to final containment via zero leak quick disconnect. No spills, dripping filters, drain pans or intermediate containers needed. New oil is completely filtered for improved continuous Contamination Control.
Faster: Completes engine oil and filter change in less than 20 minutes.
Protects the environment:
Enhances operational efficiency: The process is the same regardless of the type of equipment you service. This allows you to improve scheduling of assets and reduce downtime.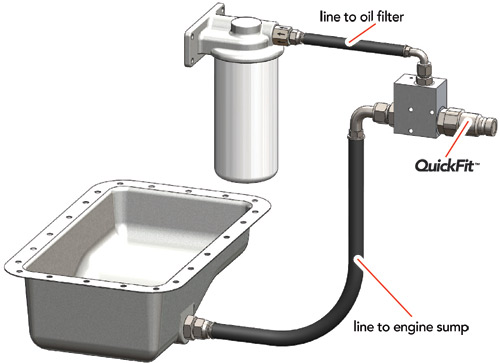 The QuickFit kit supplied by RPM Industries has everything you need to install the system including brackets, cable ties and hardware. The kit is custom designed for your particular application and an installation guide will show how to install each unit. RPM Industries' application engineering has already done all the work to determine the correct fittings, hose routings, and mounting locations to make your installation quick and simple. We have over 25 years of experience and have catalogued thousands of machine applications. If we don't have an existing kit we will create it!
RPM also has a large catalogue of service parts to upgrade your service bay / shop area for maximum efficiency. From hand held DC pumps to AC, DC and air operated shop pumps, hoses and reels, hydraulic adapters, and electrical harnesses we have everything you would need. RPM engineering can work with you to design a custom upgrade to meet your needs.
For more information about QuickFit Oil Evacuation System with PERT Process, call 800.255.2250 or contact us today!