QuickEvac™ Oil Evacuation System with PERT Process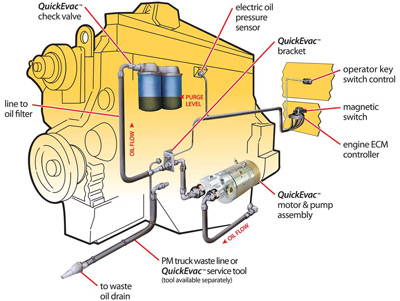 Lubrication is the lifeblood of a diesel engine, especially today's high-performance, fast-starting diesels. RPM's QuickEvac oil evacuation and pre-lubrication system reduces engine bearing and ring wear by up to 60% on average, under typical start-up conditions.
Safety and Ergonomics - QuickEvac system puts technician safety first by Purging filters and Evacuating the sump with no crawling, climbing or dealing with dangerous oil spills.
Environmental Protection - QuickEvac system transfers waste oil from the engine directly into final containment. No pans, no mess. Leak-free. Worry-free. Every time.
Savings - QuickEvac system saves time and money; and can pay for itself in less than a year.
Contamination Control - QuickEvac system Refills the fresh fill oil through the new engine filter on its way to the engine's sump, thus ensuring the new oil is really "clean" before being circulated through the engine's oil galleys. This unique refill process minimizes contamination risks.
Speed - Complete engine oil and filter changes in less than 20 minutes! QuickEvac system empties most engines in 60 seconds or less. Routine engine maintenance that's actually routine.
Pre-lubrication - QuickEvac system eliminates dry starts and extends engine life.
Data Management – Each service is automatically TimeStamped for easy record keeping.
The QuickEvac oil evacuation system allows your technician to perform an oil and filter change in less than 20 minutes. The five easy steps are all safely done from a single service point: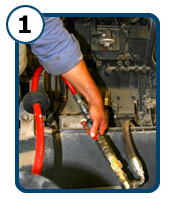 1. Purge Oil Filter(s)
Disconnect the line-to-oil filter at the QuickEvac bracket, connect a compressed air line, and apply air through the filter. After about 10 seconds, remove the air line from the line-to-oil filter, and filters are empty, ready for removals without spills.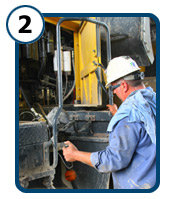 2. Evacuate the Sump
Connect the hose assembly service tool from the PM truck's waste line or the manual service tool to the QuickEvac pump's quick disconnect fitting, Switch on the pump and evacuate the engine (less than 60 seconds is typical).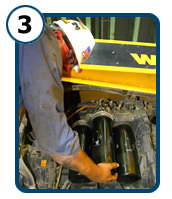 3. Change the Filter(s)
Remove the used oil filter and replace with new. The QuickEvac system automatically filters the new oil while filling the filter and engine sump.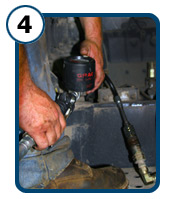 4. Fill with Clean Oil
Connect the PM truck's clean oil fill line to the line-to-filter. Fill with the oil, verify the level in the sump with the dipstick without starting the engine and adjust if needed. Normal fill if no PM truck available.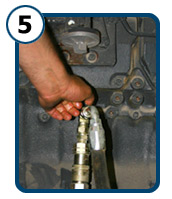 5. Reconnect QuickEvac Line
Disconnect the PM truck's fresh oil from the line-to-oil filter. Reconnect the line-to-oil filter to the oil filter at the QuickEvac; bracket. Your engine will be automatically prelubricated at start.
For more information about RPM Industries, call 800.255.2250 or contact us today!