Periodic Pre Lube Systems for Power Generators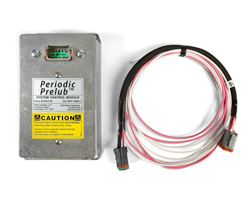 RPM's Periodic Prelube system is designed as a generator lube system for power generators that need oil pre-lubrication on engines with long down times.
Generator Pre Lubrication
For stand-by generator sets or supplementary applications where the engine isn't started for long periods of time, periodic prelube regularly pumps oil to lubricate all galleys and oil passages in the engine. The standard setting is to cycle the pump for 40 seconds every four hours, 24 hours a day. This is critical for engines that need to be able to start immediately.
For more information about periodic prelube, call 800.255.2250 or contact us today!