RPM Industries Pre Lube Systems Customer Testimonials
Read our customers' testimonials on RPM Prelube and oil evacuation systems and solutions. See why so many OEMs choose RPM Industries for pre-lubrication solutions.
Ed Walsh, Fleet Manager
SD Ireland Companies | Williston, VT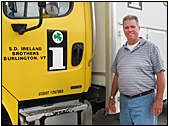 "The RPM System has proved to be a valued addition to our service operations. It has increased our ability to do quick clean, safe services on the many different types of equipment in our fleet. Our field techs rely on the QuickEvac System to make their lives easier when working in inclement weather conditions - they do not have to lay on wet, muddy, or frozen ground - they do not have to drag drain pans from under a machine - the fluids are removed quickly and they move on to the next task.

The QuickEvac System can help anyone be more efficient with their machine maintenance. The ability of the RPM System to work within the Caterpillar "Product Link" Machine Management System also gives us a great tool to keep track of our equipment and to better manage our time and resources. We will be outfitting new Caterpillar machines purchased from our local dealer with the RPM Technology."
---
Alan Ironstar, Serviceman
Voice Construction | Edmonton, Alberta, Canada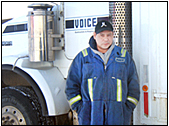 "What I like most about the system is that the filters are dry when you pull them off, the system is environmentally friendly and has no mess, drains the sumps and filters completely and it's really nice to evac the transmissions too. The system saves me average of 1 ½ to 2 hrs on every service I do."
---
Greg Dockham, Floor & Lube Technician
Milton Cat | Hopkinton, NH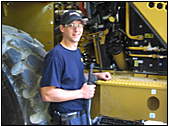 "I love this system. It saves me a huge amount of time on every service and makes my job much cleaner and safer, all types of machines should be equipped with the RPM Multi-Vac and QuickEvac technology". "My favorite part of the system is the Oil Filter Purge Tool which means no more hot oil from the engine or filters all over me, the machine, or the ground. The Evac Tool means no more crawling under any machine in the dirt, dust, mud and water. Just push the button and you are pumping oil".
---
Pat Murry, Fleet Equipment Manager & Tim White, Lead Tech
Shelburne Lime Stone | Colchester, VT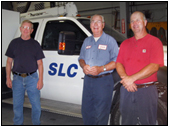 "RPM's Evac System has quickly become an important part of SLC's equipment maintenance practice. It has allowed our personnel to be more productive and to work smarter. We have a large operation which is spread all over the state. It is important that we have a standard way of completing machine services which can be repeated by any tech at any location.

In our line of business it is important that we maintain production quotas and eliminate down time. As time is money, this system helps keep our machines serviced and up and running without the mess and extended shop time needed for conventional service methods. Cold weather operations are not as much of a concern as we now have an extra layer of protection provided by the prelub function during our tough winter season. Our techs now realize the value of the system when they go out on a machine which is "not" equipped. We will continue to install The RPM systems on new equipment at all our locations."
---
For more information about RPM Industries' pre-lubrication testimonials, call 800.255.2250 or contact us today!